Company Profile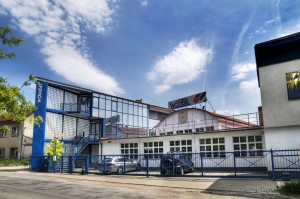 WOMBAT is something of an unknown animal in our country. It is native to Australia and is classed among the marsupials. It is approximately 70 to 120 cm in length and weighs up to 40 kg. Its body is adapted to living under the ground. It is striking by its heavy and broad head and massive cylindrical body without a tail. Wombat is skilled in digging and its well maintained corridors reach up to dozens of meters in length. It has a backward-facing pouch, which it uses to carry its young for six months. The young wombats stay with their mother for an average of one year. Wombat is known to be a very intelligent animal; the weight of its brain relative to the weight of its body is the highest among all marsupials. In particular, the forebrain is well developed, which suggests its higher level of evolution and intelligence. Although wombats are well known throughout the world, it is said that creators of zoology textbooks in our country have simply forgotten about them.
The company of WOMBAT, s.r.o. was established with the intention of reconnaissance and subsequent rehabilitation of sewage headers using trenchless technologies. The company directors have acquainted themselves with these new progressive methods of underground pipeline rehabilitation on their travels, especially in Belgium, the Netherlands, Germany and Austria. During their previous employment in the 80's, they have already experienced first-hand the situation of our sewer mains and realized that the country's development cannot continue without extensive investments into the infrastructure. For this reason, the company's first move was to buy cameras which are used to monitor the monitor of underground pipelines. Afterwards, a trenchless inverse liner technology KAWO was developed based on fitting a polyester epoxy liner into defective or unsuitable pipelines, achieving not only proper sealing, but also structural improvement of the pipeline. The advantage of this technology is its speed, the quality of the work, hydraulic improvement of the pipe networks and improvement of the environment.
The KAWO technology was quickly improved by the addition of AQUATECH B10 high-pressure combination sewer trucks and KAWO sewer robot for repair of sewer service pipes. For complex rehabilitation of sewer systems, shafts and manholes were fitted with watertight fibreglass pots, while sewer service pipes were rehabilitated with FLEXOREN – RELINING technology. Rehabilitation of local malfunctions and defects in sewer mains is performed using the KAWO – LOCAL method: fitting with short linings. Later on we launched a service of rehabilitation of pressured water inlet pipes with KAWEX trenchless technology as well as protection of internal surfaces of water pipes with epoxy spraying – the M-System technology.
The individual rehabilitation technologies were gradually improved over the years.
Our assortment of sewer and cleaning trucks was expanded in the diagnostic area. Currently, we own four complete units including a broad range of high-power extensions – jets, milling machines, chain cleaners, etc. Monitoring units have also developed greatly in terms of variety over the period of more than twenty years, allowing for inspection of lateral pipes directly from the main pipeline, as well as clear output i.e. the option of paper or electronic report of the results of the inspection. The company currently uses four complete monitoring units for diagnostics of piping from small diameters up to manhole-sized profiles.
Our rehabilitation technologies for sewer systems have been significantly expanded in terms of its sewer robot equipment; the newest pieces can fit a variety of heads for milling, as well as drilling, cutting and scrubbing.
The company has also greatly evolved its equipment in the area of water pipeline rehabilitation. In addition to the use of newer and better materials, i.e. linings and epoxy resins, we fit liners via pressure vessels and cure them with steam. We also currently offer structural spraying for the rehabilitation of water pipes, which not only protects the internal surfaces, but provides structural support and protection to the piping.
WOMBAT, s.r.o. has its headquarters in Brno – Slatina, near the airport and the connection to D1 highway. Nowadays we are also finishing the construction of a new modern centre called NO-DIG PARK, where we will focus on new development in this technological area and make use of the innovative findings for improvement in diagnostics, assessment and optimization of underground pipeline renovations.
Since 2004, WOMBAT works under quality management system 9001 and environmental protection 14001.
Development of WOMBAT, s.r.o.
1990 –
the company of WOMBAT, cooperative, established
1991 –
purchase of a RAUSCH monitoring camera
1992 –
completion of the KAWO method development
1993 –
the company transformed into a private limited liability company (s.r.o.)
1997 –
launch of the M-System technology for water pipeline spraying
1999 –
moving to a new, modern site in Brno – Slatina
2000 –
entry into the Russian market
2001 –
the Construction of the Year award received for the best construction in the world using trenchless technologies
2003 –
the GOLDEN AQUA award won
2004 –
acquisition of certificates: ISO 9001 and 14001
2006 –
completion of the GASEX technology for the rehabilitation of gas pipelines
2008 –
semi-structural spraying technology
2010 –
celebration of the 20th anniversary of the company's establishment
2014 –
completion of the NO-DIG PARK in Brno – Slatina
WE HONOUR AND IMPLEMENT THE PRINCIPLES OF RESPONSIBLE AND PRECAUTIONARY APPROACH TO NATURE CONSERVATION WHICH IS REFLECTED IN OUR STRATEGIC DECISIONS AND EVERYDAY PRACTICE
WE TAKE THE SAME MEASURES WHEN PROTECTING THE HEALTH AND SAFETY OF OUR EMPLOYEES: WE USE PROPER PROTECTIVE EQUIPMENT AND WORK WITH SANITARY MATERIALS
WE REGULARLY RENEW BOTH CZECH AND INTERNATIONAL CERTIFICATES FOR PIPELINE REHABILITATION QUALITY
WE DEVELOP AND MODERNIZE OUR TECHNICAL PROCEDURES
RESPONSIBILITY, RELIABILITY, PROFESSIONAL EDUCATION AND OPENNESS TO DISCUSSION IS A CONSTANT AND ESSENTIAL REQUIREMENT IN EACH AND EVERY ONE OF OUR EMPLOYEES
WE ADHERE TO LEGAL DUTIES INCLUDING NORMS FOR ENVIRONMENT PROTECTION IN OUR DAILY WORK
WE ARE DEVELOPING OUR QUALITY MANAGEMENT AND ENVIRONMENT PROTECTION SYSTEMS SO THAT THEY ARE FLEXIBLE TO CHANGES AND IMPROVEMENTS WHILE REMAINING FULLY FUNCTIONAL AND EFFECTIVE